Blog Archives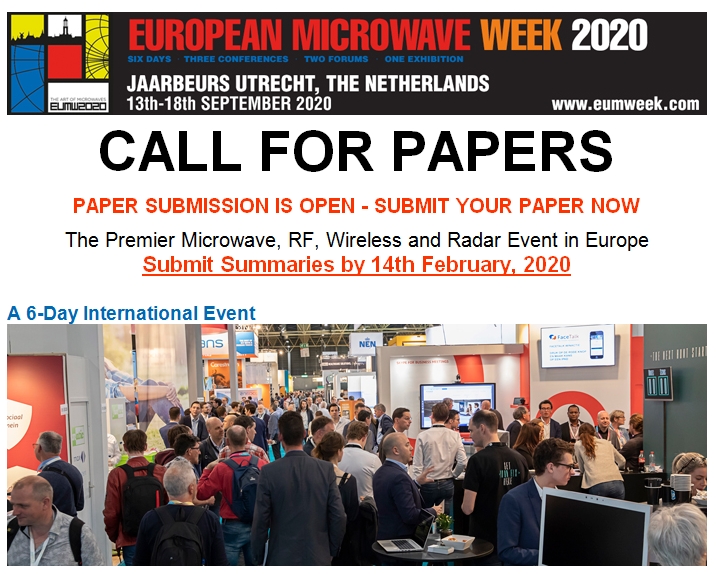 J. Overdevest, F. Jansen, F. Uysal and A. Yarovoy, "Doppler Influence on Waveform Orthogonality in 79 GHz MIMO Phase-Coded Automotive Radar," in IEEE Transactions on Vehicular Technology, vol. 69, no. 1, pp. 16-25, Jan. 2020. – doi: 10.1109/TVT.2019.2951632 – keywords: {Automotive radar;PMCW;binary sequences;waveform orthogonality;Doppler influences},
URL: http://ieeexplore.ieee.org/stamp/stamp.jsp?tp=&arnumber=8891682&isnumber=8961346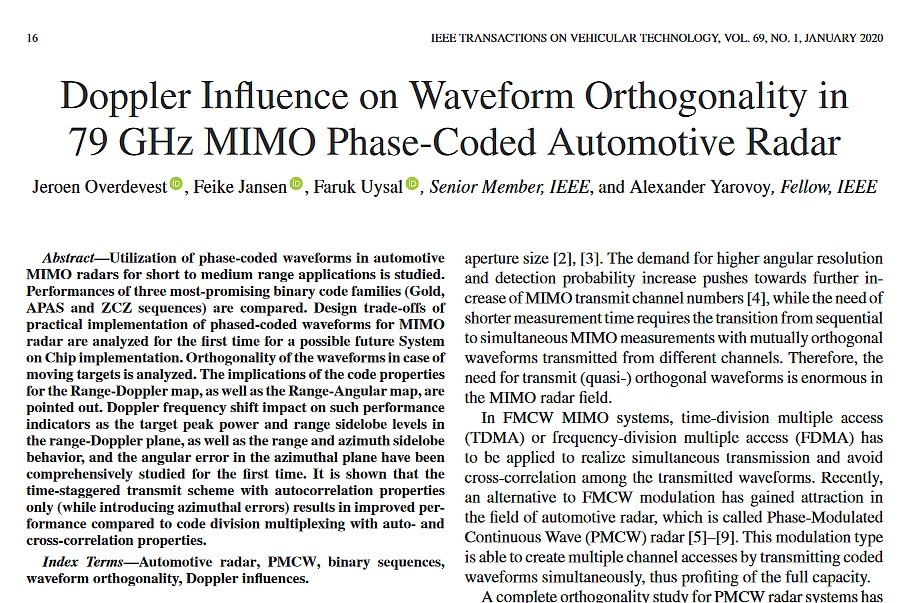 Congratulate authors!

Dear authors,
This is to notify you that the following article, "Linearized Three-dimensional Electromagnetic Contrast Source Inversion and Its Applications to Half-space Configurations," has been finalized and posted to the "Early Access" area on IEEEXplore. This article has been accepted for inclusion in a future issue of this journal and its content is final as presented with the exception of pagination and issue designation. It may be cited as an article in a future issue by its Digital Object Identifier. To view your Rapid Post article, please visit the journal homepage (listed below) on IEEEXplore and select the "Early Access" tab.
This paper appears in: IEEE Transactions on Geoscience and Remote Sensing
Volume: 55 Issue: 6
Print ISSN: 0196-2892
Online ISSN: 1558-0644
Digital Object Identifier: 10.1109/TGRS.2017.2672861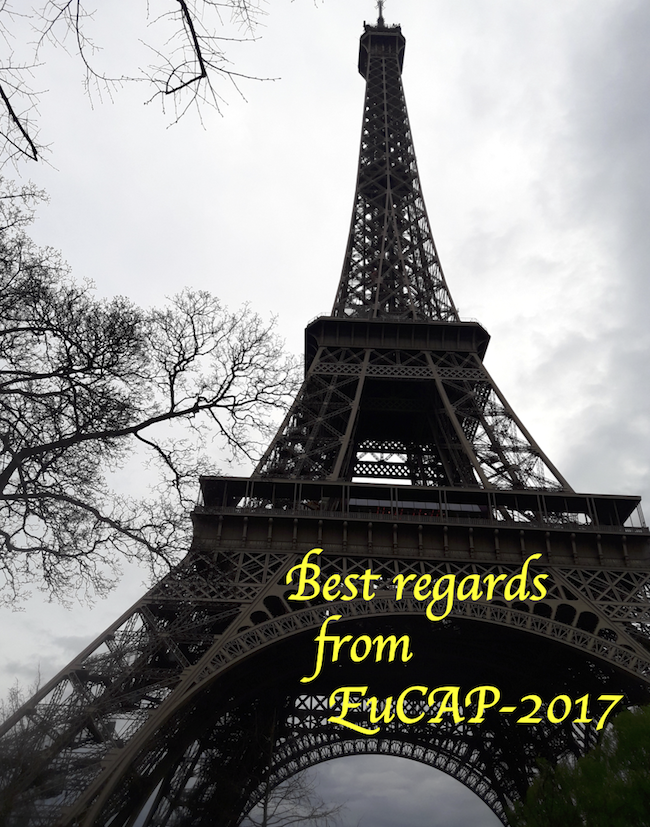 Stefano, Sharef, Jan, Jiapeng, Oleg and Alexander send you our best regards from the 11th European Conference on Antennas and Propagation, that was going in Paris, France, on 19-24 March 2017. The conference attracted of 1300 participants that followed to 850 presentations. Every session, in average, has been follower by 48 attendees.
The paper "Spectral Polarimetric Features Analysis of Wind Turbine Clutter in Weather Radar" by Jiapeng Yin, Oleg Krasnov, Christine Unal, Stefano Medagli, and Herman Russchenberg has been selected to be a finalist for a best paper award. The finalist papers have been requested to present their work in a special poster session dedicated to the Awards. This session took place on Thursday afternoon, March 23, 2017, and gave a possibility for many additional discussions and contacts. Unfortunately, we did not receive the Award, which went to the paper "Design and Calibration of a Double-directional 60 GHz Channel Sounder for Multipath Component Tracking" by Ruoyu Sun (NIST, USA), Peter Papazian and Jelena Senic (NIST, USA), Yeh Lo (NTIA, USA), Jae-Kark Choi (NIST, USA), Kate A. Remley and Camillo Gentile (NIST, USA)…
During the closing session the EuCAP flag has been passed to the co-chairs of the next year conference (Yang Hao and Tony Brown), which will take place in London from 8 to April 2018.
A few interesting for our field invitations for paper submission:
And more…