Almost all Dutch universities are gaining ground in the world rankings by British research firm QS. TU Delft rises from place 61 last year to 47 now. One reason: the makers have revamped their methodology. Among other things, the QS World University Rankings now look at whether universities contribute to the 17 goals of the United Nations.
The main criterion in the rankings remains the university's reputation among scientists and employers, but the balance shifts in this. Scientists now weigh slightly less, while employers' opinions are given more emphasis. Other criteria include the internationalization of staff and students, citation scores of scientific articles, the number of students per lecturer, and students' performance in the labor market.
At the top, little changes. The US MIT is at the top for the 12th time and the British University of Cambridge is number two, as it was last year.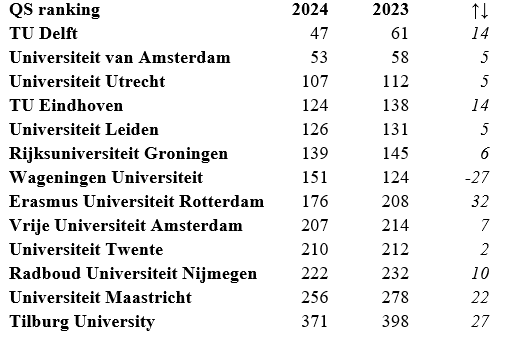 Dutch Universities Association UNL makes a comment on its website: "A ranking paints an incomplete picture of reality. The strength of higher education institutions is, pre-eminently, their mutual diversity. The pitfall of rankings is that they paint a global picture that does (too) little justice to the complexity of what is being measured."
BTW, according to the QS WUR Ranking by Subject, we are #15 in Electrical and Electronic Engineering!